Kellen Myers - Teaching
Math 152, Mathematics for the Life Sciences 2, Fall 2017
This page serves as the syllabus for this course. This page will be updated to reflect additions or changes to the course schedule, assignments, etc.
Students may contact me at:
Office hours: Tuesdays, 12:30-2:30
Office: Hesler 424
Email: kellenmyers@gmail.com
Before, during, and after class meetings
Most of the course information can be found on this website. Be sure to keep up with the course's progress and other important information. Dates, assignments, etc. are subject to change, and you should take care to be informed and prepared. If you have any questions, be sure to check these pages. If you still can't find the answer, contact me (email is usually fastest).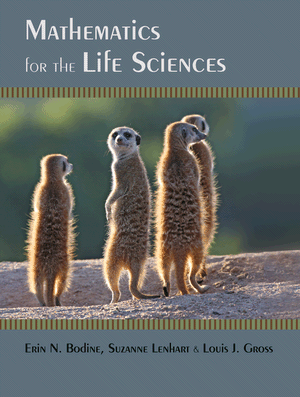 This course meets at the following times & locations:

Tuesdays & Thursdays, 9:40-10:55AM, Ayres 120.
This link contains general course policies.

Textbook:

The textbook for this course is Mathematics for the Life Sciences, by Bodine, Lenhart, & Gross.

Learning Objectives:

Dr. Lou Gross has outlined how this course fits into the University's learning objectives here.
You may also refer to the "Campus Syllabus" here.

Final Exam:

The date and time of final exam are indicated in the schedule below. Further information about the final exam schedule can be found in the following PDF.
Important note: This page is meant to collect information specific to this section of this course. Other generic information on this site like policies, supplemental material, etc. is still relevant and applicable to the course. Policies located on a page other than this one are still a part of the course syllabus.
Here I will post materials for the course. Note that some items may be unavailable (in particular, items dated into the future may not be posted in advance of those dates).
This contains basic course information, but mostly points you to this website.

Quizzes, in-class exercises, etc.

These are in the next section, listed by date.
Below is a day-to-day schedule of topics for each class meeting. For each date, this indicates the reading to be done before that date and homework to be completed later (for the next week's meeting). The homework, lecture topic, and reading will all correspond along each row. The homework and readings are listed by section from the textbook. You are expected to keep up with the reading and homework. Even if you can't read a chapter intensively, please make an effort to read it through once so you are at least somewhat familiar with the concepts we will discuss in class.
Note that the schedule is subject to change, in case the pace of the course varies or due to other factors.
Although homework is not collected, you are strongly advised to keep up with reading, homework, and other studying. I will expect that students have completed each week's homework by the following Tuesday meeting.
The schedule is currently under construction.
Wk
Date
Topic
Homework
In Class
Other
1
Aug 24
15.1-3: Limits
15.1
2
Aug 29
15.2, continued
16.1-2: Continuity
15.3,5,6,7,8,10
"Quiz" 0 & Solutions
2
Aug 31
16.3-4: Continuous Functions
16.1,2,5,6,10
Quiz 1 & Solutions
Activity 1 & Solutions
3
Sept 5
17.1-5: Rates of Change
17.1,2,3,5,7,8
Activity 2 & Solutions
Study Habit Survey
3
Sept 7
17.6: The Derivative
—
Activity 3 & Solutions
4
Sept 12
Review
—
Sample Exam & Solutions*
4
Sept 14
Exam 1
—
5
Sept 19
Chapter 18
18.1,3,4,5,7,9
Activity 4
5
Sept 21
Chapter 19
19.1,2,3,5,6,9,12,14,16
Activity 4 & Solutions
Project 1 Start
6
Sept 26
Chapter 20
20.1,2,3,4,5
Quiz 2 & Solutions
6
Sept 28
Chapter 20
20.6,7,8,9,11,13,15,20
Activity 5 & Solutions
7
Oct 3
Review
Sample Exam & Solutions*
7
Oct 5
No Class (Autumn Break)
8
Oct 10
Exam 2
Formula Sheet
8
Oct 12
Chapter 21
21.1,2,3,4
Activity 6 & Solutions
9
Oct 17
Chapters 21-22
21.9,11
22.1,3
9
Oct 19
Chapter 22
22.4,5,6,9,10
Activity 7 & Solutions
Project 1 Due
Project 2 Start
10
Oct 24
Chapter 23
—
Quiz 3 & Solutions
10
Oct 26
Chapter 23
23.1,2,3,4,7,8
Activity 8 & Solutions
11
Oct 31
Chapter 24
—
Quiz 4 & Solutions
11
Nov 2
Chapter 24
24.1,2,3,5,7,8,15,16
Activity 9 & Solutions
12
Nov 7
Review
—
Sample Exam & Solutions*
12
Nov 9
Exam 3
—
Formula Sheet
13
Nov 14
Chapter 25
25.1,2,3,6,11
Activity 10 & Solutions
Project 3 Start
13
Nov 16
Chapter 26
26.1,3
Project 2 Due
14
Nov 21
Chapter 26
26.4,5,13,14
Activity 11 & Solutions
14
Nov 23
No Class (Thanksgiving)
15
Nov 28
Chapter 27
27.1,2,3
Quiz 5 & Solutions
15
Nov 30
Chapter 27
27.5,6,7,8
Activity 12 & Solutions
16
Dec 5
Review
—
Sample Exam & Solutions*†
Project 3 Due
16
Dec 7
1:00-4:00PM: Extended office hours
—
Dec 12
8:00-10:00AM: Final Exam (see here) — Formula Sheet
*Credit to Dr. Lou Gross. Topics may vary between this sample, for another instance of this course, and our exams.
†You are encouraged to review the previous exams from this course primarily.
This sample exam focuses primarily on the material from after Exam 3.
This course requires the (sporadic) use of a computer/calculator to solve problems, carry out computations, and generate graphics related to the topics at hand. Assignments requiring the use of a computational aid will fall into one of three general categories: (1) basic computation that anyone should be able to do with a personal calculator; (2) work for which you will be provided precise instructions; and (3) work that is a repeat of something for which you have been provided instruction or that you should otherwise know how to complete.
In particular, you will be asked to complete some work using MatLab. You may access MatLab on University systems, and the software is also available (free!) from the OIT software website. The textbook contains specific commands that you will be asked to use, and there are many, many tutorials available online (check Google or Youtube first, perhaps). You can even consult the official tutorials by MathWorks or our textbook's website.
If you are familiar with another computer algebra system (Maple, Mathematica, R) capable of performing the same function, you may use this other software. Be aware, though, that I cannot guarantee your favorite software can do what we will need to do for the semester, nor can I provide support for software with which I may be unfamiliar.
If there are problems accessing or using any calculator, computer, or software, please contact me immediately. If you are having issues with an assignment, contact me and I will help. Note that in cases where it is not necessary, you are advised to practice solving problems without a calculator. Quiz and exam problems will typically not require calculators.
Your course grades are based primarily on the major assessments: Exams. Other components of course grades are projects and in-class work (which includes quizzes and in-class assignments). It is important that you attend class in order to participate in these activities.
| | |
| --- | --- |
| Quizzes & In-Class | 20% |
| Projects | 20% |
| Exam 1 | 20%* |
| Exam 2 | 20%* |
| Exam 3 | 20%* |
| Final Exam | 20% |
Quizzes and in-class work are averaged together. On days when there is no quiz, you may be asked to complete a worksheet, answer problems, or otherwise participate in class. Because there will be a quiz or in-class activity frequently, I will drop the lowest in-class/quiz grade to give you a little leeway for an unexcused absence or a bad day. *I will also drop the lowest of the three midterm exams, to allow for students' personal emergencies or other issues that would otherwise lead to a missed exam or poor score. It also hopefully lowers the stakes and stress of testing.
Course grades are computed numerically on a scale from 0% to 100%, weighted as indicated in the table above, and students are assigned a letter grade as described in the page on instructional policies.
Note that homework is not included. Homework for this course is not collected. Homework is intended to be practice, and in order to remove any incentive towards homework plagiarism, students are instead asked to do homework on their own. Students are still, of course, welcome to discuss the homework during office hours or class meetings. Just because it is not counted directly towards your grade, please be very aware that your work on homework is expected, on a weekly basis. You should keep up with the homework and use this as an opportunity to practice in earnest the skills and concepts we are learning, otherwise you may find yourself struggling.
Do not forget that throughout the semester, grades are not just numbers to maximize, they are indicators of satisfactory / unsatisfactory work. It is important to understand how you are doing in the course. If you are having trouble determining your standing in the course, please ask. Note that there are no grade quotas and that students are not "competing" for grades.
Consult the policies page for more details about grading.